BUSMAN (Bringing User Satisfaction to Media Access Networks)
Multimedia and Digital Content Technologies and Systems
In a time and age where the availability and retrieval of multimedia content is becoming more important than ever, BUSMAN has developed and integrated tools that enable seamless provider-to-customer delivery of video components across heterogeneous channels. The implemented techniques support user-friendly retrieval of video content when fast access is demanded. Effective human factor studies in terms of user requirements, system performance, user evaluation and best-practice have been considered throughout the design, system integration and performance evaluation stages.
"The objective of BUSMAN has been to push forward the frontiers of current technology for video annotation and retrieval"
Dr. Ebroul Izquierdo
Head of the Multimedia and Vision Lab at Queen Mary, University of London and BUSMAN project coordinator.
"In a mobile environment, it is very important for that information to get to the user efficiently and securely. The BUSMAN system in particular has the novel aspects of integrating indexing and watermarking technologies"
Dr. Paola Hobson
Manager of Multimedia Applications Research, Motorola UK Research Lab.
"A project like Busman is serving two important objectives: The first is as a testbed to assess the impact of emerging technologies in the current business models for digital content processing and distribution. It also helps to detect, evaluate and analyse new possible products and services that these new technologies will make possible in the near future"
Paulo Villegas
Division Head of Multimedia Content at Telefónica, one of the project partners.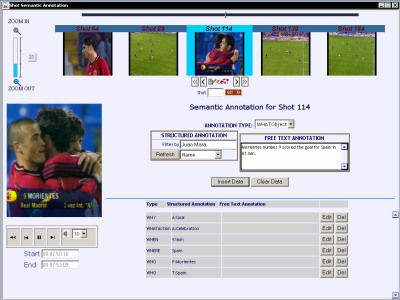 Searching for a goal
Imagine a computer system that can automatically search through videos of football matches and pull out all the shots on goal or all the fouls.
Creating the elements that make such a system possible is a key result from the IST BUSMAN project. The current generation of computer systems is excellent at searching for and manipulating text: as the spectacular success of Google has shown. However, computers are now routinely used to store and process more than just text - videos of football matches for example. Handling multimedia content such as video footage is far harder than text where particular words and phrases can be searched for.
The fast growth of such "unstructured" digital content and the lack of efficient tools to handle it motivated several European research institutions and key industrial players in the Multimedia field, including Motorola and BTexact Technologies, to set up the BUSMAN project. It was coordinated by Prof. Ebroul Izquierdo of the EE Multimedia and Vision Lab, at QMUL and finished last year. In its final review the project was rated as among the very best research and development projects funded by the European Union's 5th Framework programme.
The project's overall objective has been to design, implement, validate and trial an efficient system for querying and delivering of video from large databases over both mobile and fixed environments: in essence a Google for video archives. The needs of end users, content creators and professional archivers were all addressed. For video content providers, advanced techniques for video indexing and watermarking were used to link video with its metadata (textual data associated with video scenes giving further information about them). For people using the resulting large video repositories, efficient browsing and retrieval tools were implemented to provide user friendly access - a key aspect of the project. In all 28 important results were achieved from the project in crucial areas of advanced media processing. For example, a novel way of detecting abrupt and gradual changes between shots was developed allowing the automatic detection of both sudden and fading scene changes. In the football application, methods of automatically detecting the shape of the pitch in video sequences have been developed that in turn are used to predict the type of video shots being taken, based on the fact that the shape of pitch varies depending on the type of video shot being taken. From this, it is possible to predict what is actually happening in a particular football sequence such as a foul.
A result that has more general application outside the scope of the project itself is in the development of video watermark technologies. Watermarking is a way of embedding invisible information in images, for example as a method of protecting against copyright violations. The presence of a watermark can prove the ownership of an image. In the BUSMAN project novel watermarking technology was needed as a way of embedding meta-data used for fast querying of the data but that could survive the compression of the video during storage and transmission. The technology developed for that task will also be of great use more generally.
In all the BUSMAN project has been an outstanding success, and as a result we can look forward to being able to routinely and easily search through archives of videos for particular events of interest just as we can already search for web pages about a given topic.

Partners
BTexact Technologies
framepool
HHI
INRIA
LIS
Motorola
Queen Mary, University of London
Telefonica
Funding
European IST Project, 2002-2004, € 327,000
Coordination grant value: € 96,000
Scientist in charge
Prof Ebroul Izquierdo
People Involved
Ivan Damnjanovic
Damien Papworth
Alan Pearmain